2022 Polemarch & advisor's Retreat
Location: Marriott Sanibel Harbour Resort | Ft. Myers, FL
The deadline to register for the Southern Province Chapter Polemarchs and Advisors Retreat Council is June 15, 2022. Online registration is available on the Southern Province website and on KappaOrg. Hotel reservation cut-off date is June 1, 2022. When securing your hotel accommodations, you will be required to pay one-night's room deposit at the time of making your reservation. You must cancel your hotel reservation 72 hours in advance in order to avoid penalty. A direct link to secure your hotel accommodations is listed below.
86th Grand Chapter Meeting
Location: Tampa, FL
Our biennial Conclave takes place in Tampa Bay in July 2023. The leadership of the fraternity made its decision in November 2018 and finalized the planning at the end of December — just ahead of the fraternity's 14th annual Founder's Day events held at the Grand Hyatt Tampa Bay. Join the festivities, meetings and more in Tampa Bay July 2023.
A Word
From Our Province Polemarch
" The Grand Polemarch, Reuben A. Shelton, III, has clearly articulated the theme of his administration: Brother to Brother, Breaking Barriers, Building Bridges. It is my sincere desire that the Southern Province aligns our efforts with the Grand Polemarch's theme. To that end, I would like all brothers of the Southern Province to embrace our theme of: Achievement Is What We Do!"
Kappa Foundation of Delray Beach in conjunction with Delray Beach Alumni of Kappa Alpha Psi® Fraternity, Inc is hosting the 2nd Annual Larry Thomas Memorial Scholarship Golf Tournament. For registration […]
Miramar – Pembroke Pines  Alumni Chapter  hosts the Kappa Kruise, February 17 – February 20, 2023 (3 Nights) on the Royal Caribbean Freedom of the Seas.
Kappa Alpha Psi  MPPAC Foundation, in association with Miramar-Pembroke Pines (FL) Alumni, hosts its' annual golf tournament.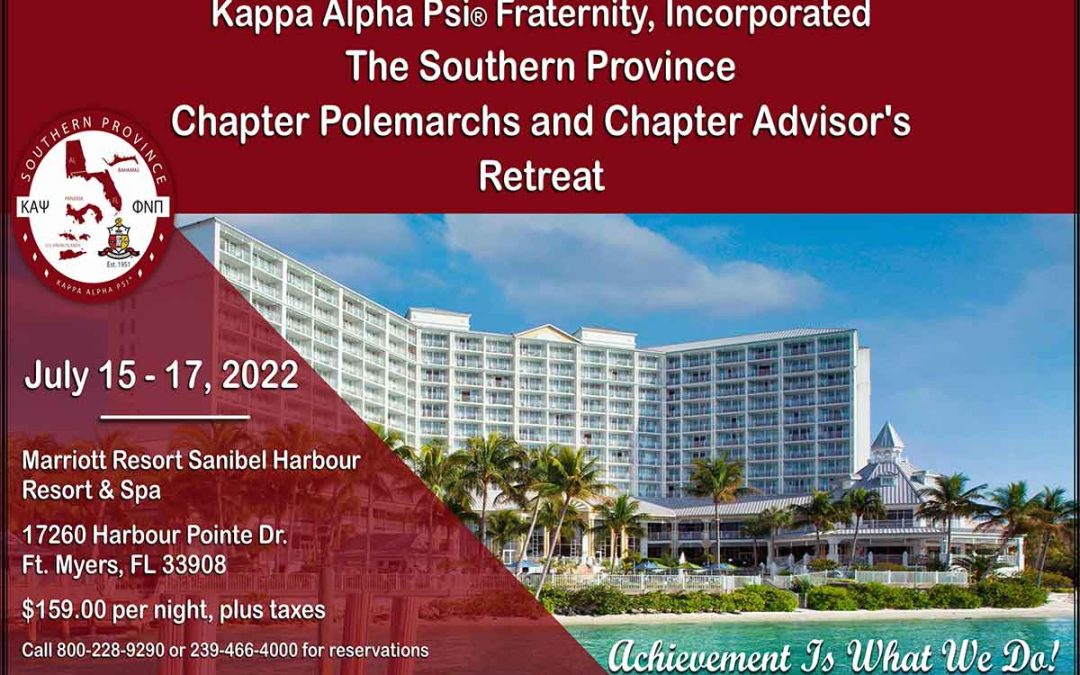 The Chapter Polemarchs and Chapter Advisors Retreat , July 15-17, Fort Myers, FL. Call Marriott Sanibel for reservations at (239) 466-4000.
A golf tournament benefitting scholarships and the Central Alabama Sickle Cell Foundation
The Cocoa-Merritt Alumni of Kappa Alpha Psi® Fraternity is raising funds to support our Guide Right programs. Click here to donate.
Proceeds benefit the Sarasota-Bradenton Guide Right Program. Registration | 7 a.m.  Tee-time | 9 a.m.
Governor Ron DeSantis appoints Darrin Williams to the Board of Funeral, Cemetery, and Consumer Services. Darrin Williams of Jacksonville, is a Supervisor for Duval County Public Schools. He is a […]
Join the Senior Kappas
Mission Statement :
To retain and reclaim members of the fraternity who are 60 years of age and older as active, contributing, fully financial brothers, to encourage programs that will facilitate their involvement that will enhance their well being, we also encourage our local chapter committees to involve themselves in community service initiatives that are geared toward senior citizens in their respective service area.
chaplain's corner
This Spirituality section features special interviews and messages from our Chaplains on aspects of our life and the challenges of choosing to grow spiritually.
This is a place where you can go to find hope, encouragement, insight and inspiration to help lift your spirit as we journey together.
We encourage brothers to share their spiritual message. Contact Brother Bobby Montgomery to learn more.